Leadership - Rajan Sachdev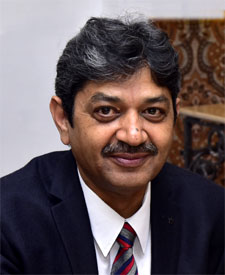 Rajan Sachdev used to love drawing in the initial years of his schooling and mathematics fascinated him for solving logical equations that later developed into his interest for computer programming during Engineering at Regional Engineering College, Srinagar, Kashmir.
Rajan Sachdev spent three years with Pertech Computers Limited working in the markets of Chandigarh and Delhi. During this time in late '80s his talent in the professional life was recognized by various awards that he received. He later on moved to join Modi Group as Branch Manager in Chandigarh, where he worked in the markets of almost the entire northern India that included Jammu Kashmir, Haryana, Punjab and Himachal Pradesh. It was during this time in early '90s that he got opportunity to travel Southeast Asian countries like Thailand, Hong Kong, Singapore and Malaysia to enrich his professional experience.
In 1993, Rajan Sachdev founded Plus Automation – an IT Consultancy & Service organization in Jammu & Kashmir. Rajan Sachdev worked relentlessly and made Plus Automation a trusted name in the market.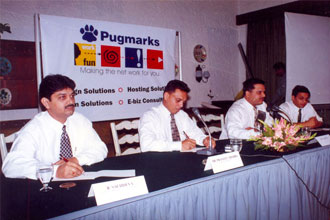 Rajan Sachdev with CMD Pugmarks and
Director Pugmarks Inc. USA during a Press Conference
Having served the market of Jammu & Kashmir through various tie-ups at the national level that included HCL Group, Modi Group, RPG Group and NIIT, Rajan Sachdev once again moved to Chandigarh on an invitation by the Chairman Managing Director, Pugmarks in the year 2000, to head its operations in India as General Manager Operations, where he worked with some of the best names in the Indian industry like Maruti Udyog, DRDO, India Today, Express Group, Modi Group, Britannica India, Hero Group, J&K Tourism etc. and established Pugmarks as leading name in the field of Internet Website Solutions. Being incharge of PR as well, Rajan Sachdev reached significant millstones by making Pugmarks stand out at the national level. This included active participation in press conferences, media presence through print and television appearance.
Rajan Sachdev is well placed to speak to a variety of IT Industry issues in the field of Website Development, Maintenance and Customised Software Solutions as a compelling and interesting spokesman. He has been invited to speak on a wide range of Website related topics by various professional Institutes like Institute of Electronic & Telecommunication Engineers, Institute of Engineers, Institute of Management Studies etc.
With this rich professional experience Rajan Sachdev is now involved in overall operations of Website Development, Back-end Support, Maintenance & Customised Software Solutions at Plus Automation, working with a team of experts in the industry.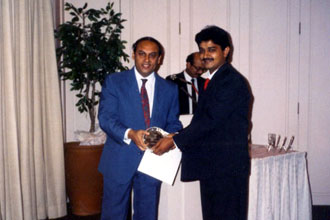 Rajan Sachdev receiving award from Executive
Director Modi GBC during Awards Night at Singapore
With a unique combination of vast creative, programming and marketing experience, Rajan Sachdev has inspired Plus Automation to offer cutting edge Website Development, Maintenance and Customised Software Solutions to its clients.
It comes as no surprise that most of the prominent names in Jammu & Kashmir have the satisfaction of association with Plus Automation when it comes to looking for Website Development, Maintenance and Customised Software Solutions.
Today Rajan Sachdev has complete involvement with the clients be it Hosting Solution, Website Design, Development, Website Optimization for Search Engines or Customised Software Solutions.
A number of letters of appreciation are testimony to the professionalism Rajan Sachdev commits and then lives up to. Be he a client, colleague, professional contact or a formal acquaintance, we only get to hear good words in appreciation of Rajan Sachdev.
Plus Automation is proud to have Rajan Sachdev leading from the front. You can connect to Rajan Sachdev on Facebook and LinkedIn.